Nylon Complete includes two products:
Incredibly realistic Nylon string guitar.
The powerful guitar accompaniment engine.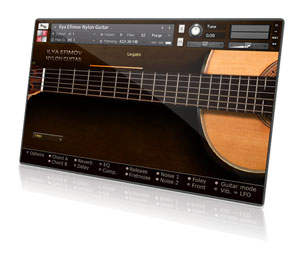 The sound of this library is rich and sensual, transparent and incredibly expressive. We have made fantastic realism by using 14 dynamic colors for each note. You can use all frets for each string. The select of the strings and positions can be both automatic and manual. The control over any parameter is available though Graphic User Interface and your sequencer. You can easily use any of 14 articulations, selecting a particular articulation that you need.
Legato and glissando are implemented in the library. Using those features you can reach a higher level of realism. The library contains a great number of FXs, such as side noises that will appear during the time one plays the guitar up to percussion effects.
We do hope that our library will not leave you indifferent and its use will give you a great number of interesting musical ideas.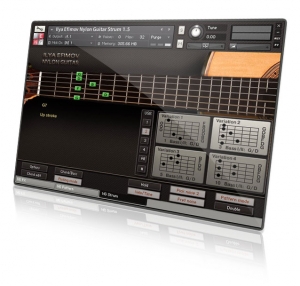 The Strum is a sample-based fully functional totally next-generation module to imitate guitar musical accompaniment. Using out library you will save a lot of time and money as you will not need to hire a professional guitar player to record the sound.
The Strum will not impose any limitations on your creative work, is easy and convenient in terms of use.
To add guitar accompaniment you will just need to choose the style and press keys on the MIDI-keyboard. You can play simple and complicated chords in any arrangement as convenient to you. The Strum will do everything itself. The library does not know only easy chords; it's familiar with a great variety of alternating and added tones. Each of 33 chord variations that can be recognized by out instrument has 4 positions. Altogether our library consists of 1584 TABs. If you don't like any of the TABs you can edit it or create one of your own. Any chord, even the most complicated or fantastic can be created and saved for use inside the library or on your HDD.
Our unique Round Robin Chord system is used in the library. It is a complex system that helps to exclude an exact replica of a strum chord. The attack style, Peak noise variation, velocity of each string and Strum time (the time between attacks of each string during playing the chord) are also changed in a random way The Strum has many styles.
Altogether you can use 320 sells for patterns, 240 of which we made ready for your fast and easy access. You can easily edit any style of create your own. The whole editing process is visualized and easily understandable from the first introduction to our library. Styles, patterns and chords can be saved inside the instrument or separately on your HDD. For easy and fast switching between styles during working process you can chose patterns for your arrangement and compile them into songs.
Apart from the listed above, in our library you can find a variety of interesting options such as Reverb effects, Delay, EQ, Compressor and 20 sells to save you personal settings of those effects: Stereo Double track options that will give you an opportunity to imitate 2 guitars playing, and other settings to adjust the sound and style according to your taste.