The ZHALEIKA (Жалейка in Russian, also known as брёлка or bryolka) is a Russian single-reed hornpipe. Many consider it to be the most popular Russian folk wind instrument. The zhaleika is a single-tube reed pipe with a horn added to function as a resonator.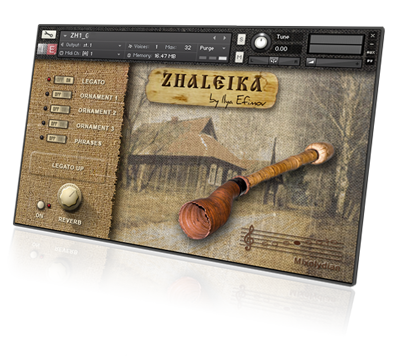 FEATURES
113 samples, 82 Mb (NCW Compression), 44,1 Hz 24 bit, stereo
Natural legato
Phrases and ornaments
Effects: Reverb
Upgrade 1.2
* Added a "Release_OFF" button to activate the release. The button works only when used articulation is different from legato, set by default.
* Added a slider "Release_Volume". This way you can control the volume of release, or turn it off at all by setting the slider to the left.
* Added an "About" button

To install the update, please unzip Ilya_Efimov_Zhaleika_G_1.2_UPDATE in the library folder, replacing the old files
Please note, if you have not download the library, you don`t need to install the update. Archive placed on a server already contains the updated version.